Get Your Perfect Smile In Grand Rapids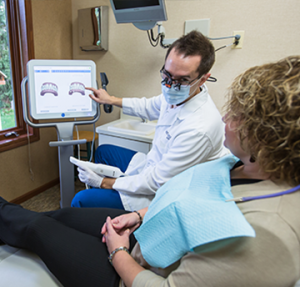 There are many benefits in choosing Invisalign® clear braces to achieve the perfect smile.
Our Grand Rapids patients love the ease of wearing clear braces and keeping their orthodontic treatment a secret unless they choose to share how their smiles are suddenly getting straighter.
You will love the many benefits of wearing Invisalign® clear braces.
Invisalign® braces are virtually invisible. You, and only you, will know that you are wearing them. This will allow you to keep your confidence high while undergoing treatment.
You can still eat all of the foods you enjoy without worrying about them getting "stuck in your braces." Invisalign® clear braces are designed to be removed when eating, meaning there are no limitations to the kinds of foods you eat.
Brushing and flossing is hassle-free because Invisalign® aligners are easily removed.
Because Invisalign® treatment uses clear braces, you can still feel confident when at work and in social settings.
Your personalized computer visualization will show you exactly how your smile will look in the end. Any and all guesswork is eliminated!
Most office appointments are quick and are needed only every four to six weeks. They won't interfere with your busy lifestyle.
"Everyone I ever see or speak with is friendly, courteous, and very helpful. I tell everyone what a great dentist I have and that his staff is just as wonderful." — Yvonne
Benefits of Invisalign at Eric Hull DDS in Comstock Park, MI
Of course, you get all the benefits listed above that are part of the Invisalign® process. We give you even more:
Digital Impressions with the iTero Element Scanner. If you have ever had orthodontic work in the past, a mold would have been taken of your mouth by filling a tray with a gel-like material that would be pressed against your teeth until it hardened. This is uncomfortable for patients and often triggers a gag reflex. We have eliminated these old-style impressions by using a scanner which makes a 3D digital picture of your mouth that the lab can use to create your custom Invisalign® aligners.
Fast Turnaround for Your Clear Aligners. Our digital impressions are seamlessly uploaded to the lab, so there is no more waiting for plaster models of your teeth to be made from the impressions and then for those models to be mailed to the lab.
Cosmetic Dentistry Experience, Artistry, and Skill. Cosmetic dentistry is a focal point of our practice here at Eric Hull DDS Aesthetic & General Dentistry. One important goal of Invisalign® treatment is to have a beautiful smile you can be proud to share, not just having straight teeth. With their experience in cosmetic dentistry, Dr. Hull can help you have the smile you have been dreaming about. That's one reason we offer free teeth whitening at the end of your Invisalign® treatment!
What sets Invisalign® treatment above and beyond other more traditional orthodontics is that you will feel completely in control of your treatment:
From day one, you will be able to see a computer simulation of your treatment plan and will visualize your new perfect smile before you have even begun.
Once you begin wearing your aligner trays, no one will know that you are wearing them but you.
You will be able to remove the trays to brush and floss or whenever you feel t is necessary to do so.
You will always feel in control of your confidence and your smile while wearing Invisalign® clear braces.
For more information about our amazing Invisalign® services, call us at our Comstock Park dentist office today! Dr. Hull works with everyone in the Grand Rapids area, so don't wait!
Related Content