The Advantage Of Invisalign® Braces In Grand Rapids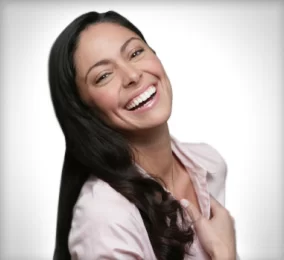 Sometimes it may not be an easy choice to make when deciding if you should choose Invisalign® clear braes over metal braces. We are here in the Grand Rapids area to help you make this important decision.
Our experienced Comstock Park dentist staff will take every factor into consideration when helping you decide which orthodontic treatment will best suit your needs. While both traditional metal braces and Invisalign® clear braces can give you a perfectly straight smile in the end, there are some differences between the two treatment plans.
| | | |
| --- | --- | --- |
| | Invisalign® Clear Braces | Traditional Braces |
| Clear, Comfortable Aligner Trays | X | |
| Ability to Remove Aligners | X | |
| Easy Brushing and Flossing | X | |
| Metal Brackets and Wires | | X |
| Straightens Your Teeth | X | X |
| Fewer Office Visits | X | |
| Many issues treated including crossbite, overbite, underbite, crowding and spacing | X | X |
| Virtually Invisible Treatment | X | |
Common Complaints About Traditional Metal Braces
The biggest complaint that people make about traditional braces is that they simply are not as comfortable as Invisalign® trays. The metal brackets and wires have a tendency to scrape and poke the inside of your mouth.
Additionally, metal braces are harder to keep clean. Because you can't remove them, food can get stuck in traditional braces, which can be frustrating.
Lastly, the unavoidable sight of traditional braces is one that many people get embarrassed about due to their association with "nerdiness."
Let Us Help You Decide
While many patients do love the discretion of Invisalign® clear braces, it may not be the best choice for all of our patients. If we determine that your needs would be better met with traditional braces, we will prescribe the appropriate treatment.
At our Comstock Park dentist practice, we are qualified to meet our patients' orthodontic needs with Invisalign® clear braces or traditional metal braces. We promise that, no matter which treatment is the best option for you, your team at Eric Hull DDS Aesthetic & General Dentistry will ensure you receive the top quality care that you deserve.
Give us a call today to get started if you are in the Grand Rapids area!
Related Content