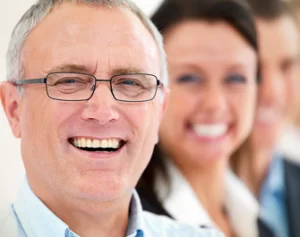 It might surprise many people to know that having missing teeth as an adult in the United States is not all that uncommon. Unfortunately, if you are missing one or more teeth, trouble chewing is just one of your problems. If missing teeth go untreated, your remaining teeth can shift, your bite change, and you can soon find that you are going to be missing even more teeth. It's important to know that one missing tooth often leads to more missing teeth.
A dental implant is hands-down the best way to replace a missing tooth or teeth, and there are a number of reasons for this. Dental implants are generally the best permanent tooth replacement for missing teeth because, not only do they look natural, they will make it easier to chew and eat. If you are considering dental implants be sure to schedule a complimentary consultation with Dr. Stewart and Dr. Hull at Stewart and Hull Aesthetic and General Dentistry to find out whether dental implants might be right for you.
During your consultation, you can get straightforward advice about how dental implants might be able to restore your smile. Dr. Stewart and Dr. Hull in Comstock Park can provide patients in the Belmont, Cedar Springs, Comstock Park, Grand Rapids, Sparta, Walker, and Rockford, MI, areas information about dental implants. Call to set up your complimentary consultation today: 616-784-2377
Stewart and Hull Aesthetic and General Dentistry is experienced in cosmetic dentistry and restorative dentistry. We are happy to take the time to answer questions you might have about any of our procedures. If you have missing teeth, schedule a complimentary consultation to talk about how dental implants can improve your smile and your quality of life. Don't wait any longer!
Dr. Stewart and Dr. Hull
Stewart and Hull Aesthetic and General Dentistry
769 York Creek Dr NW
Comstock Park, Michigan 49321
616-784-2377