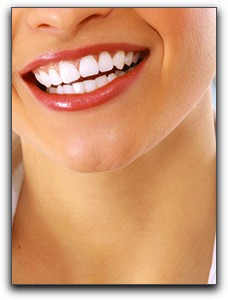 As we age, our teeth tend to lose their natural whiteness. If we eat dark-colored foods and drink beverages such as coffee, wine and tea, this can speak up the process. But even if you avoid anything that might stain your teeth, you are not immune to teeth that start to look yellow or gray.
If you want to brighten your smile, it's easier than ever. Consider tooth whitening! We offer teeth whitening at Stewart and Hull Aesthetic and General Dentistry, and it is one of the quickest and most affordable ways around to give you whiter teeth—and make you look younger and feel more attractive.

We offer several different methods for whitening teeth to suit anyone's needs–including KöR deep tooth bleaching and Zoom! in-office quick bleaching. If you prefer to do your whitening in the privacy of your own home, our at-home tooth whitening is available. Like the in-office options, it uses a solution that contains peroxide. This removes the stains present in the microscopic cracks in your tooth enamel that cause your teeth to look darker than they should.
We get a lot of questions about the strips, mouthwashes, and brush-on whiteners you can buy at the local drugstore. Because these use a lower concentration of whitening agent than professional methods, they are not very effective in removing stains on your tooth enamel.
If you have gum disease, cavities, crowns, dental bonding, or porcelain veneers, Dr. Stewart and Dr. Hull recommend first visiting your dentist for a teeth whitening consultation. For best possible results, having your teeth whitening performed by a professional is always the best way to go.
The friendly team of skilled dental professionals at Stewart and Hull Aesthetic and General Dentistry would love to serve you with implant dentistry, restorative dentistry, porcelain veneers, teeth whitening, and smile makeovers. Call us today!