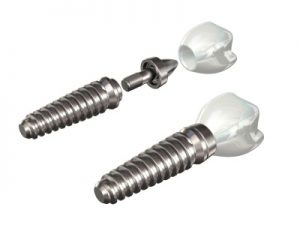 When they are properly cared for, dental implants from Stewart and Hull Aesthetic and General Dentistry in Comstock Park can last a lifetime. That's just one of the reasons why they have become the tooth replacement option of choice.
A dental implant, in case you haven't heard, is a titanium post that is secured to your jaw bone. One dental implant can support a single artificial tooth. Several implants can support a dental bridge, or even a set of dentures.
FUSING TO BONE
Dental implants become replacement tooth roots. What makes them so secure is a process called osseointegration. That means the titanium fuses with the jaw.
Once an artificial tooth, called a crown, is attached to the implant, it looks and functions like a natural tooth. Most patients say their biting and chewing ability is normal. Just as important, of course, is getting your smile back.
LONG LASTING
As for their longevity, there are several factors involved. Cleaning a dental implant and crown is just as important as cleaning your natural teeth, and the process is about the same. You'll need to brush away the filmy plaque that can build up on it, and floss between the implant and the neighboring teeth.
We also recommend that you avoid things like using your implant like a tool. In other words, don't use it to open things. You should also avoid biting down on hard things like shelled nuts, and pen or pencil tips. Of course, you should never do any of those things with your natural teeth, either.
If you are missing one or more of your teeth, dental implants may be just what you've been hoping for. We also offer a full complement of general, family and cosmetic dentistry. Call our office to schedule an appointment today.
Contact Stewart & Hull Aesthetic & General Dentistry:
Location (Tap to open in Google Maps):