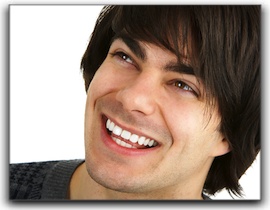 What does it take to really change the way you look? Hours upon hours at the gym? Expensive trips to the most cutting-edge salon in the Comstock Park area? What about a routine trip to your dentist?
You may not love going to the dentist, but you will love the results when they help you find the best way to whiten your teeth. Teeth whitening is a simple cosmetic dentistry procedure with dramatic results that never cease to impress.
Dr. Stewart and Dr. Hull can work with you to develop a teeth whitening regimen that will be most effective. This may include any of the following three methods:
Zoom whitening done in-office. Sometimes called chair-side bleaching, a special light is used while a bleaching agent is applied to the teeth. A rubber shield or protective gel is used to keep your tender gums safe from the whitening agent.
Bleaching at home. Even though this is done at home it is closely monitored by our office to receive the best results.
Kor whitening is a combination of home whitening and a one time in office whitening for optimal results.
If you would like to hear more about options to restore your smile, such as cosmetic dentistry or restorative dentistry, call our office to schedule a complimentary consultation today.
Stewart and Hull Aesthetic and General Dentistry
https://www.greatmismiles.com/
616-784-2377
Ask us about restorative dentistry