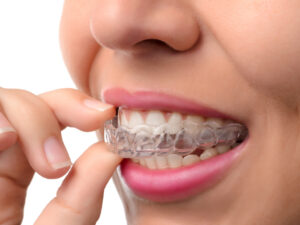 Invisalign clear braces are an ideal way to transform crooked teeth into a fabulous new smile, without the inconvenience of metal. Sound good? You can get them at Eric Hull DDS Aesthetic & General Dentistry in Comstock Park.
Clear braces use the same principle as conventional metal braces. They apply pressure to the teeth to gradually bring them into proper alignment.
The big difference is that Invisalign clear braces are made from a synthetic material that is completely safe and biocompatible. There are no metal brackets attached to your teeth. They're also almost undetectable when you wear them, too!
The key is wearing a series of these aligners throughout the treatment period, which usually lasts from three to fifteen months. Each new aligner is slightly different from the previous one to keep enough pressure to move teeth in the right direction. You get a new aligner every week or two weeks depending on your treatment plan.
The real beauty of aligners is that they're removeable. You can take them out at mealtime and to brush and floss your teeth. For best results, though, you must wear them at least 22 hours a day, including when you sleep.
Invisalign clear braces from Eric Hull DDS Aesthetic & General Dentistry in Comstock Park can give you the smile you've always wanted. We've improved the smiles of patients from Ada, Belmont, Comstock Park, Grand Rapids, Sparta, Walker and Rockford, MI, who also come to us for cosmetic and family dentistry. Call for an appointment today!
Contact Eric Hull Aesthetic & General Dentistry:
Location (Tap to open in Google Maps):