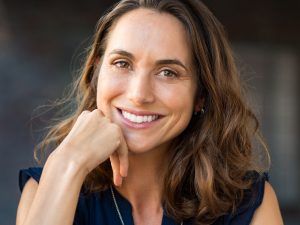 Invisalign clear braces like those available at Stewart and Hull Aesthetic & General Dentistry in Comstock Park have transformed the way we can straighten teeth. If you're interested in braces that are more comfortable and manageable than conventional braces, give us a call.
Unlike conventional braces, clear braces are made of a clear synthetic material. Technically they aren't even called braces, they are called aligners. A series of aligners are worn over a period of months. Each new aligner slightly changes the pressure on your teeth to bring them into proper alignment.
Aligners have a number of advantages over metal braces:
Nearly undetectable. Since they're clear, people standing just a few feet away may not know you're wearing them.
Removeable. You can pop your aligner out at mealtime, and to brush and floss.
Comfortable. Metal braces have drawbacks like abrasions inside the cheeks and getting food caught in the brackets when you eat. Clear braces? Not an issue.
Best of all, Invisalign clear braces from Stewart & Hull Aesthetic & General Dentistry in Comstock Park deliver great results! Patients throughout Ada, Belmont, Grand Rapids, Sparta, Walker and Rockford, MI also come to our practice for dental implants, complete cosmetic dentistry, and much more. Schedule your next checkup with us today!
Contact Stewart & Hull Aesthetic & General Dentistry:
Location (Tap to open in Google Maps):